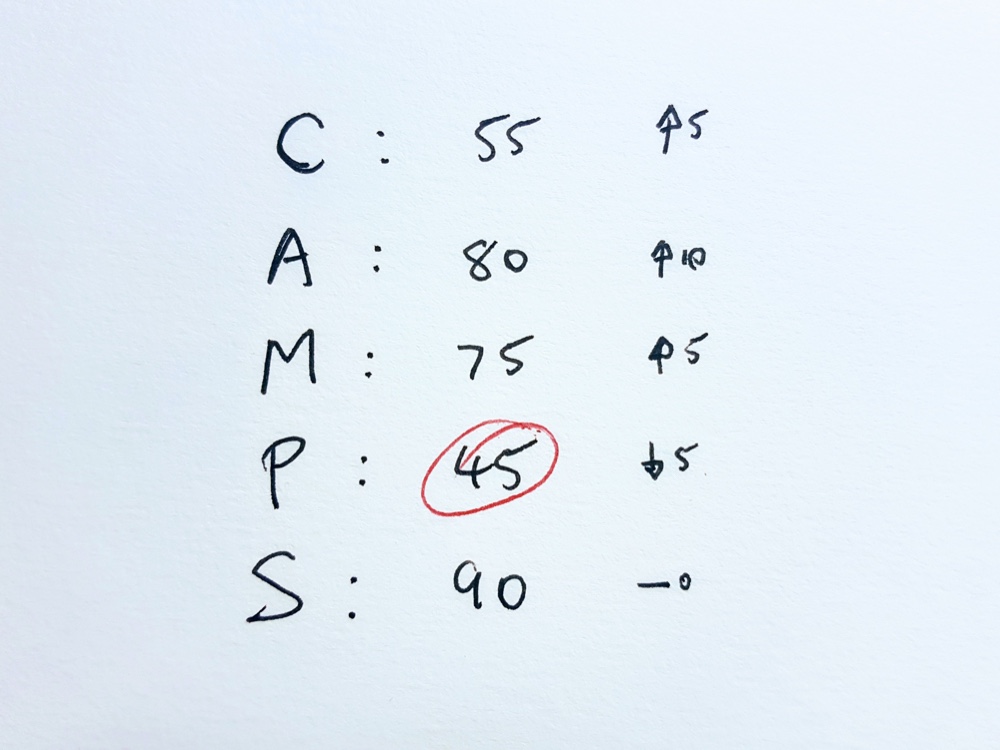 Effective one on ones with C.A.M.P.S.
Here's a great tool to help new managers drive the conversation with their reports towards "the important question".
"Let's do your C.A.M.P.S. scores…"
It's a simple starting place for gathering genuine feedback and agreeing on meaningful actions.
To get started all you need to do agree on the following five metrics and track them week to week.
An acronym. C.A.M.P.S.
When someone is loving their work the following five aspects of their working life will score high.
"Wow. This is a really effective way of surfacing issues that people care about. It covers such a large spectrum of concerns." - Adam Finley
Certainty: Do you know what's expected of you, and the people around you?
Autonomy: How satisfied are you with decision power and/or amount of direction you have?
Meaning: Do you personally feel your work delivers a meaningful difference for you, your team, the company and the world?
Progress: Do you feel you are making small steps forwards in your career every week?
Social Inclusion: Do you feel connected to the team and included in the important conversations?
How to use it.
The first time.
"What does Progress mean to you?"
Help define each segment by having a conversation about the meaning of each segment. The above outline is a starting point. It's important that you continue to refine and restate what these five terms mean.
Capture a score for each. This score is something that will become more and more relevant through time. The number itself may be trivial but in comparison it can shine a light on the right question.
Highlight lowest and highest segments and discuss what is pushing them upwards or downwards.
"I see your score for Certainty is low this week. What can I do to help dial that up?"
Going forward.
Once you have numbers up on the wall recap on last weeks numbers and spot how they have shifted.
This is a great place to begin an open conversation about trends and actions.
At the end of each month assess the data. You might be surprised to see some unexpected trends.
"… progress is up 10 points this week because the recent team structure changes have made it easier for us to deliver."